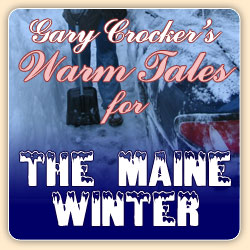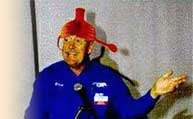 Gary's Good Ol' Maine Tales
These tales, drawn from the rich, verbal tradition of Downeast Humor, are a sampling of Gary's wealth of entertainment. He will be happy to tailor his entertainment and presentation to your organization's needs.
Mutha and I sing the Maine State Song every morning when we wake up in the trailor
As Maine Alum, we sing the Maine Stein Song every time we drink a Moxie!
NEW TALE FROM THE RADIO!!! Snapper and Eugene put a little more love into Moose Hunting.
Gary reveals the secret tactics of Pre-Season Fishing in Maine.
First, witness the Humah Jukebox, an uncanny live talent, during which Gary can instantly recite a tale in response to any audience request by its jukebox number.
Take a look at Gary and Mutha's New Carpet- a prime example of Downeast interior decorating.
Gary gets into maintenance and out of trouble while clearing Ice on the Roof.
Witness the current condition of Maine technology with this short guide to Maine Computa-bonics.
If you're looking for a fine place to dine in Central Maine, check out Gary and Filbert's favorite restaurant with a sense of humah- Burnsie's!
Finally, get some laughs and culinary advice from Gary regarding that infamous Maine beverage: Moxie!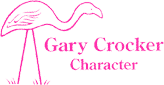 Bring the diverse tradition of Downeast Humor to your next event. Contact Gary's wife and Manager, Ellen, by email: humor@garycrocker.com or by phone: (207) 462-3774 to book an event.