Gary and Filbert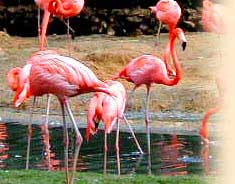 Filbert the Lawn Flamingo, while not quite as educated as his mentor, has a background slightly more colorful and tragic than Gary's. Filbert is the last remaining member of a large flock that resided on Gary's lawn in West Gardiner. Tragedy struck the other 60 members of his family in the form of a jealous neighbor and his enthusiasm for shotguns. Sharing the grief of this tragic event created the bond between Gary and Filbert.
Filbert is one lucky flamingo. While these wonderful birds are not extinct, they have been placed on the endangered list. The last time we checked, there were only 4 sets left at the House of Reny's in Gardiner. Recently, Gary's brother-in-law and master Maine Guide John Gamage had a once-in-a-lifetime encounter with one of these feathered friends. "I never get used to the thrill of seeing these wonderful birds in their natural habitat," said Mr. Gamage, who deftly lead his entourage through the area without incident. John managed to capture the two photgraphs below. Notice how the flamingo crouched down low when he heard the shutter of the camera. Gary says that this specimen was so wicked nice, Filbert wanted to stay in Millinocket!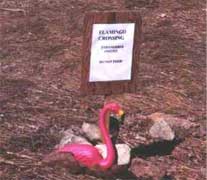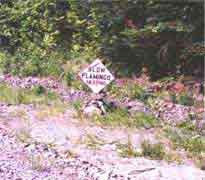 Draw on Gary's knowledge of Downeast wildlife and bring inspiration and fun to your next event. Contact Gary's wife and Manager, Ellen, by email: humor@garycrocker.com or by phone: (207) 462-3774 to book an event.