Gary Crocker, Character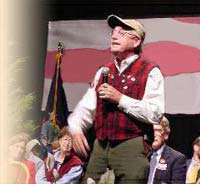 Gary is best known as a delightful master of ceremonies for special events, from Presidential visits in Maine, to Boy Scout Jamborees. His uproarious mastery of public speaking makes him the perfect emcee, entertainer, or inspirational speaker for all occasions:
Corporate Events
Employee Recognition
Annual Meetings
Conventions
Schools
Concerts
Request More Booking Information
To bring Gary's inspiration and fun to your next event, please contact his wife and Manager, Ellen:
by phone: (207) 462-3774
by email: humor@garycrocker.com
by mail: 12 Manning Drive, West Gardiner, ME 04345
Gary Crocker has performed throughout New England and brought his Downeast humor to such diverse places as San Francisco, Dallas, Orlando, Chicago and Spearfish... South Dakota!
Gary will tailor his presentation to the needs of your group or organization, smoothly performing his classic tales for up to an hour, interacting with your audience and even customizing jokes or speeches for those present in your audience.