The Human "Humah Jukebox"
One of Gary's renowned skills as a live performer is his uncanny ability to imitate a jukebox! While this has been known to intimidate small audiences in the back-woods of Maine, it has delighted many others as a real Maine crossover between technology and hard, Downeast effort.
You don't even need a quarter for this Humah Jukebox! During some performances, Gary presents the audience with a list of 50 classic Maine tales. Then, as the audience shouts out the numbers that they would like to request, Gary responds instantly with the correct poignant or hillarious tale.
Take a look at the many options that Gary has in his Humah registry.
---

1. Lost Child
2. Moose Drop Pie
3. Heater Hunters
4. Give Him Another Chance
5. Truck/Car Accident
6. Pine Cones
7. Maine Wave
8. Hat in Mud Season
9. Snappy Answers
10. Brains
11. Divorce/Tornadoes
12. Black Eye in Church
13. How He Loves Baked Beans
14. Maine State Roofin'
15.Duct Tape Tips
16. Got Powah
17. Wife for Powah
18. Moxie/New Truck
19. Mainers/Real Mainers
20. 22MPH Grandmother
21. Focused!
22. 15MPH Grandmother
23. Elevator
24. Electric Collar
25. Moose Next 360 Miles
26. Married at 95!
27. Order up a woman
28. Circle Flies
29. Mert Hickey. Maine Guide
30. 3 Story 1 Holer
31. $100 Down the Hole
32. Wilbur's Turkey Hunt
33. Gagnon the Moose Caller
34. Gagnon Drives Truck
35. How to Break Bad News
36. Who's the Boss?
37. Charlie's Load o'Chickens
38. Is the Light Drawin'
39. Blow upthe Bull
40. Salesman wants Room
41. Lincoln 2-Faced
42. Scared by Bear
43. Nickel and Dime
44. They All Do It
45. Wilbur's Trooper Troubles
46. Don't Suppress Laughter
47. My Dog Don't Bite
48. Not enough Manure
49. Maine Native (or What?)
50. 1st Trip to Boston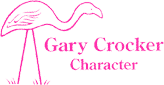 Draw on Gary's diverse entertainment talents and bring inspiration and fun to your next event. Contact Gary's wife and Manager, Ellen, by email: humor@garycrocker.com or by phone: (207) 462-3774 to book an event.