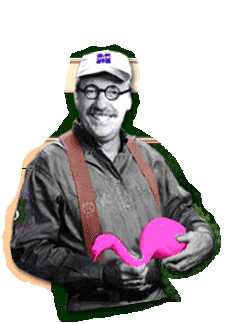 Archive of Recent News, Events and Maine Humor!
Follow Gary Crocker on his adventures in Maine humor, helping to spread wellness and fun throughout Maine, New England, and everywhere his travels take him!
> Return to Gary Crocker's Homepage
Gary on the Designer Health Net Talk Show with Kristé Bouvier!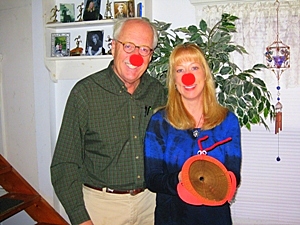 Gary has joined Kristé and the fabulous crew of Designer Health Net for a number of great conversations--sharing stories, red noses and plenty of Maine laughs!
The Designer Health Net Talk Show is a fun and relaxed talk show that discusses every aspect of health and wellness around New England and the rest of the planet, from the newest workout fads to the nitty-gritty details of mental illness.
Visit the Designer Health Net website for information on upcoming broadcasts, special events and other offers from Kristé. Take a listen below to some of Gary's past appearances, and be sure to tune in to the next broadcast, ayuh!
Hot & Humid Humor in Maine!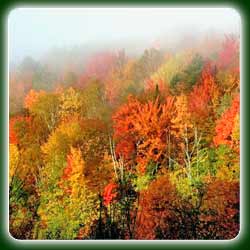 Maine State Credit Union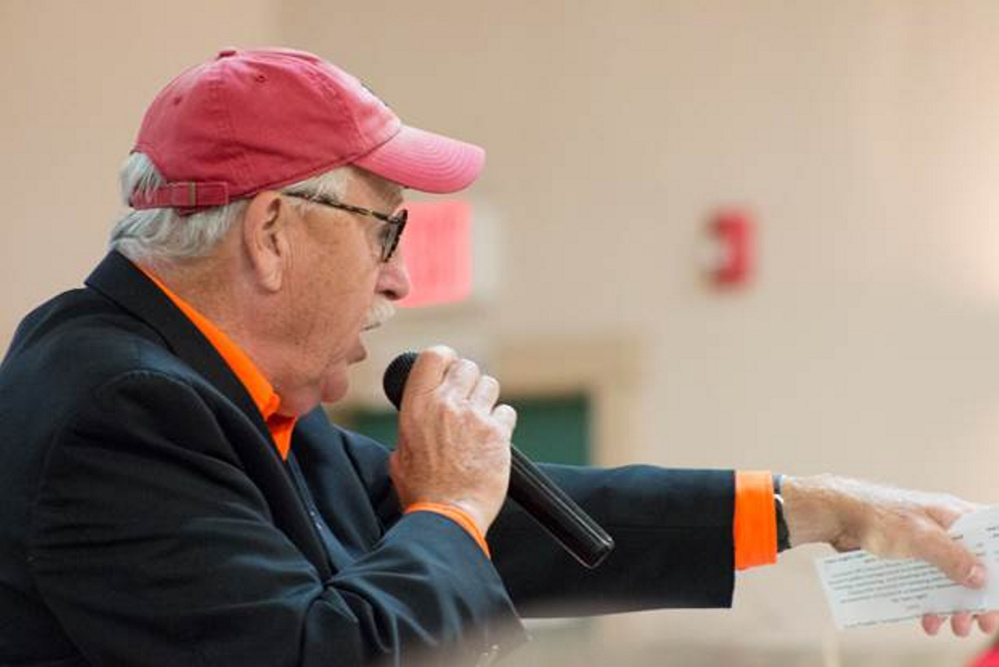 Photo courtesy of Kennebec Journal
Read the article on CentralMaine.com
"What can we say? You are AWESOME Gary! You gave the saying "I would give the shirt off my back" a whole new meaning! Your generosity enables Maine State Credit Union to give a voice, hope, and a future to food insecure families throughout Kennebec and Somerset Counties. Additionally, your support has played a key role in our success in providing financial assistance to more than 30 local hunger organizations this year."


Read the rest of this letter and more!
Happy New Year!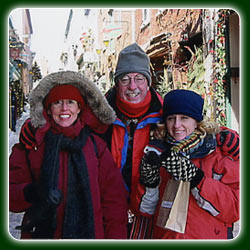 Gary and his lovely ladies wish you a prosperous and hilarious new year. Visit us for more laughs and Maine humor as 2007 comes barrelling along.
Maine Humor for Hire
Whether your need after-dinner entertainment, or an all-out headline speaker, Gary's got the jokes and the delivery that will keep your audience laughing through the night.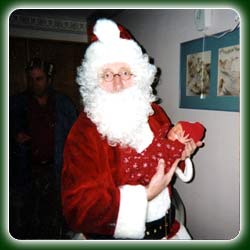 Maine's favorite "Character", Gary Crocker, has just the right act for your upcoming holiday party or dinner.
Whether your need after-dinner entertainment, or an all-out headline speaker, Gary's got the jokes and the delivery that will keep your audience laughing through the night.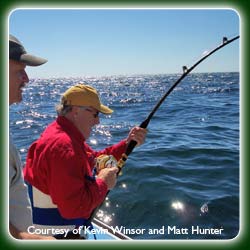 Gary's been patroling the oceans around Maine for signs of malicious or disgruntled sea life. He's been fishing and doing his best to give those sharks a run for their lives- or at least a good laugh! He didn't reel any in, but had a heck-of-a good time doing trying.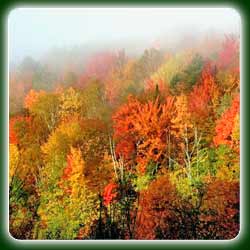 Gary believes that the best way to get through the winter doldrums is to remember how much fun Maine is in the summer. So as the sun starts to set early, warm up with some Maine humor online!
Maine Humor and Miles of fun for a good cause - The MS150 Bike to the Breakwater was a success!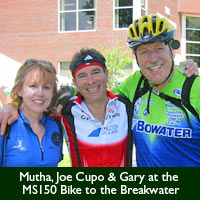 Thanks to everyone who attended, making this event such a wonderful time. Whether you biked 50 miles or 150, your spirit and strength were uplifting to us all. Mutha and I had a great time making new friends and spreading our Maine humor. See you next year!
- Gary Crocker, Maine Humorist
Enjoying Maine's Summer with Wicked Good Treats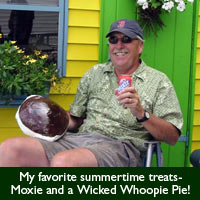 With fantastic weather and loads of tourists, life is good for a Maine humorist in the summer. Gary celebrates Maine's new, official state soft drink by enjoying his Moxie with a special treat from Wicked Whoopies in Gardiner, Maine.
Maine Humorist Lobbies for Official State Soft Drink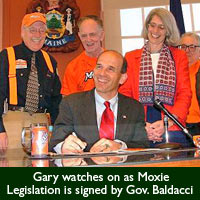 Gary appears in USA Today:
...Speaking in favor of the bill, State House lobbyist and humorist Gary Crocker spoke of the diverse values of Moxie, especially during such a snowy winter.
"You should load your trunk down with cases of Moxie for traction," Crocker said as he slathered on a thick Maine accent. He saw little difficulty in lobbying for the bill's passage. "I will work the halls endlessly, for the next two or three hours."
Gary Storms the Maine State House!
Well, he was actually a guest of honor, asked to perform our National Anthem. And boy, does Gary still have some pipes!

Also on Youtube, you can find this series of commercials that Gary did for Spray Foam of Maine because he's an actual customer--it'll save you money, and Mutha agrees!
Call Spray Foam of Maine: (207) 724-3746
Time Warner Cable Media © 2012
Good Sam Club thanks Gary!
A message from my new friends in the Maine Good Sams Club: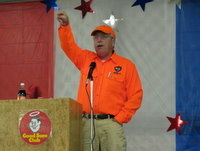 Gary,
I've attached a photo for your scrap book.
As a professional, do you carry liability insurance?
I hope you do because the morning after your performance we had many folks approaching us indicating very sore ribs from excessive laughter and the hold YOU directly responsible!
You captured the hearts of all of the Good Sam'rs. None can recall a time when everyone was in 100% agreement that the entertainment was terrific!

Thank you for sharing what is certainly a God given gift for brightening lives with us! You're the Best of the Best!
Martin
Recent Events: 2005
Saturday September 17, 2005 12:30pm
University of Maine Class of 1960 Reunion
Cannon Building
Orono, ME
Sunday September 18, 2005 @ 2pm
UMA 40th Anniversary
Jewett Auditorium
Augusta, Maine
Monday, September 19
EJ Prescott
Samoset
Rockport, Maine
Friday September 23, 2005 @5:30pm
Maine Autism Society
Keely the Caterers
Portland, ME
Saturday October 1, 2005
Sexual Assault Crisis and Support Center
Calumet Club
Augusta, Maine
Sunday Oct 2 and Monday October 3, 2005 @ varied times
National Customer Service Week
Mount Desert Island Hospital
Bar Harbor, ME
Tuesday October 4, 2005 @ 8am
HealthCare Review
Holiday Inn by the Bay
Portland, Maine
Thursday October 6, 2005 @1130am
Sophomore Awareness Day for Monmouth Academy
Camp Androscoggin
Wayne, ME
Thursday October 6, 2005 @730pm
Maine Chapter of American Association of Healthcare Management
Spruce Point Inn
Boothbay Harbor, ME
Tuesday October 25, 2005 @6pm
Atlantic Chapter of APCO
Sheraton
South Portland, ME
Friday October 28, 2005 @ 9:30am
Maine Educational Secretaries
Samoset Resort
Rockport, ME
Saturday November 5, 2005 @ 7pm
Pike Industries
Ramada Inn
Lewiston, Maine
Tuesday November 15, 2005 @5pm
Annual Mens' Health Fair
Inland Hospital
Waterville, Maine
Friday January 20, 2006 6pm
Sugarloaf Charity Summit
Sugarloaf Inn
Carabasset, ME
Saturday January 21, 2006 8am
Bath Iron Works
Brunswick High School
Brunswick, Maine
Saturday January 21, 2006 6pm
American Lung Association of Maine
Marriott Sable Oaks
South Portland, ME
Wednesday April 26, 2006 @ 6pm
Maine Veterans Home
Marriott Sable Oaks
South Portland, ME
Thursday May 4, 200 4pm
Driver License Examiners
Doubletree Hotel
Portland, ME
Friday May 5, 2006 1pm
Maine Association of Healthcare Administrative Professionals
Inland Hospital
Waterville, ME
Friday May 5, 2006 6pm
YMCA Fundraiser
Augusta Country Club
Manchester, ME
Wednesday May 10, 2006 @ 6pm
Eastern Maine HealthCare System
Spectacular Events
Bangor, ME
Saturday May 13, 2006 @ 6pm
Maine State Society of Washington, DC
Arlington-Fairfax Elks Lodge
Fairfax, VA
Monday May 15, 2005 6pm
Annual Chef of the Year
Augusta Country Club
Manchester, ME
Thursday May 18, 2006 3pm
Tax Collectors & Treasurers
Augusta Civic Center
Augusta, ME
Thursday May 18, 2006 6pm
Loggers Meeting
Foster Tech
Farmington, ME
Wednesday May 24, 2006 6pm
Sanford/Springvale Chamber of Commerce Annual Meeting
Location TBA
Friday May 26, 2006 10pm
St. Doms High School Project Graduation
Big Adventure
Bethel, ME
Wednesday May 31, 2006 3:30pm
Hospice Volunteers of Somerset County
Federated Church
Skowhegan, ME
Friday June 2, 2006 @ 6:30pm
Auburn Adult & Community Education
Edward Little HIgh School
Auburn, ME
Saturday June 10, 2006 2pm
FHC, Inc.
1201 Main St.
Bowdoin, ME
Tuesday June 20, 2006 Noon
Maine Oil Dealers
Harborside Hotel
Bar Harbor, ME
Wednesday June 28, 2006 @ 6pm
IBEW Training Association
Holiday Inn by the Bay
Portland, ME
Saturday July 22, 2006
Buxton Community Days
Weymouth Park
Buxton, ME
Tuesday July 25, 2006 6pm
American Society of Civil Engineers ASEC Cold Regions Conference
University of Maine at Wells Common
Orono, Maine
Saturday July 29, 2006 noon
Maine Speech Language & Hearing Association
Eastland Hotel
Portland, Maine
Saturday August 5, 2006 8pm
MS Society
St. Josephs College
Windham, Maine
Saturday August 19, 2006 - 9am
Kenny Smith Fundraiser
Kennebec Savings Bank
Augusta, Maine
Saturday August 19, 2006 - 6pm
Sexual Crisis & Support Center
Le Calumet Club
Augusta, Maine
Sunday August 20, 2006 - 1pm
Ladies Program
Sebasticook Lodge
Clinton, Maine
Friday August 25, 2006 - 10:30am
Kennebec Valley Mental Health Employee Day
Belgrade Community Center
Belgrade, ME
Tuesday September 12, 2006 - 5:30pm
EJP Vendor Banquet
Gardiner, ME
Thursday Sept 14, 2006 - 2pm
Norton Lamb & Company Annual Company Meeting
Chebeague Island, Maine
Saturday September 30*, 2006 - 7pm
Sargent Trucking
Shriners Club
Presque Isle, Maine
*Please note the date has changed
Thursday October 26, 2006 - 6pm
DOT TEA-TAG-TUG Conference
Marriott Hotel
South Portland, Maine
Thursday November 2, 2006 - Luncheon
Maine Community Action Association
Samoset Resort
Rockport, Maine
Saturday November 4, 2006 - 5pm
Pike Industries
Augusta Civic Center
Augusta, Maine
Saturday November 4, 2006 - 8:30pm
New Gloucester Fire Rescue & Auxillary
Spring Meadows
Gray, Maine
Thursday November 9, 2006 - 6pm
2nd Annual Entrepreneur of the Year Awards Dinner
YCCC
Wells, ME
Friday December 8, 2006 - 6pm
CES,Inc.
Spectacular Events
Bangor, Maine
Thursday Jan. 11, 2007 @ 6pm
Verso Paper
Jeff's Catering
Brewer, ME
Friday Jan. 19, 2007 @ 6pm - 8pm
Sugarloaf Charity Summit
Sugarloaf Inn, Sugarloaf USA
Carrabassett Valley, Maine
Thursday Jan 25, 2007 @ 6pm
Biddeford Saco Chamber
Saco Holiday Inn Express
Saco, ME
Saturday Feb 3, 2007 @ 6pm
Maine Army National Guard
Spectacular Events
Bangor, ME
Friday March 16, 2007 @ 9am
People's Regional Opportunity Program
Gorham USM Campus
Gorham, ME
Monday March 19, 2007 @ lunch
Maine Municipal Association Technology Conference
Civic Center
Augusta, ME
Wednesday March 21, 2007 @ 6pm
Franklin Savings Bank
UMF Dining Hall
Farmington, ME
Friday March 23, 2007 @ 7pm
Project Graduation
Skowhegan Area High School
Skowhegan, ME
Friday March 30, 2007 @ 7:45am
Diversity Day
Monmouth Middle School
Monmouth, ME
Tuesday April 3, 2007 @ 2pm
USM Muskie School/ DHS
Augusta Civic Center
Augusta, ME
Thursday May 3, 2007 @ 7pm
University of Maine Hutchinson Center
Student Recognition Evening
Belfast, ME
Saturday May 5, 2007 @ 6pm
Maine Army National Guard Welcome Home 172nd
Jeff's Catering
Brewer, ME
Monday May 21, 2007 @ 9am
New England Health Information Management Association
Holiday Inn by the Bay
Portland, ME
Saturday June 9, 2007 @ 6pm
Sexual Assualt Crisis & Support Center Celebrity Dinner
Calumet Club
Augusta, ME
Friday June 22, 2007 @ 8pm
Berwick Academy Reunion
Fogg Building
Berwick, ME
Wednesday July 4, 2007 530pm
July 4th Festival
Brooks, ME
Thursday July 12, 2007 @ 6pm
Town of East Millinocket 100th Celebration
Opal Myrick Elementary School Park
East Millinocket, ME
Friday July 13, 2007 7pm
Town of Windsor Celebration
Elementary School
Windsor, ME
Saturday July 14, 2007 1pm - 9pm
100th Celebration of Pittston Farms
Rockwood, ME
Sunday July 15, 2007 @ 6pm
Franklin Memorial Martha B.Webber Cancer Center Fundraiser
Sugarloaf Clubhouse
Sugarloaf, ME
Friday July 20, 2007 evening
Maine Potato Blossom Festival
Community Center
Fort Fairfield, ME
Tuesday August 7, 2007 5:30pm
Farm Bureau Insurance Companies
Harborside Hotel and Marina
Bar Harbor, ME
Saturday Sept 8, 2007 @ 8:30am
5th Annual Northern Maine Living with Cancer Conference
Houlton Regional Hospital
Houlton, ME
Saturday September 15, 2007 @ 6pm
Maine Firefighters Convention
Sukee Arena
Winslow, ME
Thursday September 20, 2007 @ 11:30am
Sophomore Awareness Day
Camp Androscoggin
Wayne, ME
Monday October 1, 2007 @ 8pm
Fryeburg Fair
Main Grandstand
Fryeburg, ME
Saturday October 13, 2007 @ 1:30pm
University of Maine
Webber Oil Company
Orono, ME
Thursday October 18, 2007 5:30pm
American Baptist Churches of Maine
China Lake Conference Center
China Village, ME
Thursday November 8, 2007 5:30pm
3rd Annual Entrepreneur of the Year Awards Dinner York County Community
College York, ME
Wednesday November 14, 2007 @ 6pm
New England Clerks Annual Conference
Foster's Clambake
York, ME
Saturday December 1, 2007 5:30pm
Hammond Lumber Christmas party
Augusta Civic Center
Augusta, ME
Friday, January 11, 2008 @ 6pm
Northern Maine Development Committee
Caribou Inn & Convention Center
Caribou, ME
Saturday, January 12, 2008 @ 7:30pm
Caribou Friends of Scouting
Caribou Inn & Convention Center
Caribou, ME
Friday, January 18, 2008 @ 6pm
Charity Challenge
Sugarloaf Inn
Sugarloaf, ME
Saturday, January 26, 2008 @ 5:30pm
Maine Lung Association Gala
Marriott
South Portland, ME
Tuesday, February 12, 2008 @ 5pm
Capital Area Housing Association
Calumet Club
Augusta, ME
Saturday, March 8, 2008 @ 9am
Leadership Conference
UMA
Augusta, ME
Thursday May 15, 2008
Maine Self Storage Association
Wyndham Hotel
South Portland, ME
Saturday May 17, 2008 @ 9am - 3pm
Choose Wellness at Inland's 11th Annual World of Women's Wellness
Thomas College
Waterville, ME

Inland Hospital and dozens of local organizations collaborate to offer women of all ages more ways to Choose Wellness than ever before! Free health screenings, pampering samples, wellness talks, exercise demonstrations, self defense tips, delicious snacks and fun prizes! Extended hours, 'till 3pm this year!
» Read more about the Choose Wellness Event


Wednesday May 21, 2008 @ noon
National Council for Air and Stream Improvement (NCASI)
Hilton Garden Inn
Auburn, ME
March, 2008
April, 2008
Friday April 4, 2008 @ 6:30pm
Maine Medical Partners
Marriott Hotel
South Portland, ME
Thursday April 24, 2008 evening
New England Chapter of the National Association of Water Companies
Cliff House
Ogunquit, ME
Saturday, April 26, 2008 @ 5pm
Sexual Assault Crisis & Support Center Celebrity Dinner
Calumet Club
Augusta, ME
Sunday April 27, 2008 @ 2pm
Manchester Fire Department Elderly Luncheon
Manchester, ME
Wednesday April 30, 2008 @ 5:30pm
Health Reach
EJ Prescott Banquet Room
Gardiner, ME
May, 2008
Summer, 2008
Sunday July 13, 2008 6pm
Franklin Memorial 21st Health Care Golf Classic Fund Raiser
Sugarloaf Club House
Carrabassett Valley, ME
Saturday July 26, 2008 1pm
101st Anniversary Celebration of Pittston Farms
Pittston Farms
Rockwood, ME
Saturday September 6, 2008 7:30pm
Maine Kidney Foundation
Kidney Camp
YMCA Camp Winthrop, ME
Friday September 12, 2008 6-9pm
Maine State Credit Union Fund Raiser & Auction
Calumet Club
Augusta, ME
Tuesday September 23, 2008 12noon - 1pm
Maine Department of Labor
Hilton Garden Inn
Freeport, ME
Fall, 2008
Wednesday October 8, 2008 @ 1:30pm
Health Care Review Symposium
Holiday Inn by the Bay
Portland,ME
Saturday October 11, 2008 7pm
Gray/New Gloucester Political Fund Raiser
Location TBA
Wednesday October 15, 2008 @ 8:45am
Freshman Awareness
Gardiner High School
Gardiner,ME
Saturday October 18, 2008 6:30pm
Stroudwater Christian Church
Jacques Cartier Club
Sabattus, ME
Thursday November 6, 2008 @ 6pm
Healthy Families of the Capital Area
Capital Area Technical Center
Augusta, ME
Thursday November 13, 2008 5:30pm
4th Annual Entrepreneur of the Year Awards Dinner
York County Community College
Wells, ME
Thursday December 11, 2008 @ 11am
Maine General Medical Center Volunteer Holiday Party
Augusta Campus
Augusta, ME
Thursday December 11, 2008 5:30pm
Gosline Murchie Insurance Company
Augusta Country Club
Manchester, ME
Winter, 2009
Monday February 16, 2009 @ 6pm
Northeast Harbor Ambulance Service
Neighborhood House
Mt Desert Island, ME
Sunday March 1, 2009 @ 5:30pm
Annual Chef's Charity Dinner
Marriott Sable Oaks
South Portland, ME
Tuesday March 3, 2009 - Afternoon
Parkinson's Support Group
Quarry Hill Retirement Community
Camden, ME
Thursday March 5, 2009 @ 7:30am
Big Brothers/Big Sisters
Rockland, ME
Tuesday March 17, 2009
6:30-7:15pm: Maine Humor & Wellness
7:30-8:00pm: Red Sox Poetry
Prizes for the audience include CDs and flamingo stickers!
Lithgow Library
Rockland, ME (directions)
Wednesday March 18, 2009 @ 6pm
County Clerks Association of Kennebec & Androscoggin
tba
Spring/Summer, 2009
Thursday April 2, 2009 @ 6pm
Deering Lumber
Holiday Inn Express
Saco, ME
Saturday May 2, 2009@ 5pm
Sexual Assualt & Crisis Awareness Celebrity Dinner
Calumet Club
Augusta, ME
Wednesday May 6, 2009 @ 8am
4th and 5th Grade Health Fair
Manchester School
Windham, ME
Sunday, June 7th @ 2pm

Cancer Care of Maine Cancer Survivor's Day

-

Bangor Waterfront

-

Bangor, Maine

Saturday, June 20th @ 6pm

Gardiner Waterfront Day's Talent Show

-

Gardiner Waterfront

-

Gardiner, Maine

Friday, June 26th @ 8:45pm

Alumni Dinner

-

Berwick Academy

-

Berwick, Maine

Saturday, July 4th – Afternoon

Katahdin Area Chamber of Commerce Celebration

-

Veteran's Park Bandstand

-

Millinocket, Maine

Friday, July 17th – Evening

Norway Business Association Fundraiser

- First Universalist Church -

479 Main Street - Norway, Maine


Ticket reservations can be made by calling 207-739-6200
Saturday, July 18th @ 5pm

2nd Annual River Driver's Day

-

Pittston Farms

-

Rockwood, Maine

Monday, July 20th @ 7:30pm

Heritage Group Planners

-

Best Western Merry Manor

-

South Portland, Maine

Friday July 31st @ 6pm

Former Highway Officials

-

Harborside Hotel

-

Bar Harbor, ME

Tuesday, August 4th @ 7pm

Northeast Forest Fire Protection Compac

-

Atlantic Oaks

-

Bar Harbor, Maine
Spring 2010
Saturday, May 1st @ 6:00pm

Sexual Assault Crisis & Support Center

- 11th Annual Celebrity Dinner

LeCalumet Club

-

Augusta, ME

Saturday, May 8th @ 6pm

Maine State Society

- 65th Annual Lobster Dinner -

Falls Church, VA
Summer 2010
Wednesday, August 4 - Saturday, August 7th @ Noon

Victory Chimes Windjammer Cruise

-

Rockland, ME
Fall 2010
Friday, September 10th @ 7pm

Good Sam RV Club Gathering

-

Fryeburg Fairgrounds

-

Fryeburg, ME

Saturday, September 18th @ 6pm

Men's Beast Feast

-

More to Life Campground

-

Winthrop, ME

Thursday, September 23rd @ 11:30am

Sophomore Awareness Day

-

Camp Androscoggin

-

Wayne, ME

Saturday, October 2nd THE BIG E - Eastern States Exposition -

West Springfield, MA

Monday, October 4th @ 6pm

Nancy Irish Memorial Tournament

-

Spring Meadows Club House

-

Gray, ME

Wednesday, October 27th @ 6pm

University Continuing Education Assoc. of New England Annual Conference

-

Cliff House

-

Ogunquit, ME

Saturday, November 6th in the Evening

Union Ambulance Service

-

Union, ME
Winter 2011
Thursday January 20th, 2011 @ Evening

Livermore Falls Chamber of Commerce

-

LaFleurs Restaurant

-

Jay, ME

Thursday January 27th, 2011 @ Evening

Maine Society of Land Surveyers

-

Hollywood Slots

-

Bangor, ME

Friday February 4th, 2011 @ Evening

Kennebec Valley Community College

-

KVVC

-

Fairfield, ME
Spring & Summer, 2011
Thursday April 14th, 2011 @ Evening

Kennebec Valley Chapter of Credit Unions

-

Waterville Elks Club

-

Waterville, ME

Saturday May 7th, 2011 @ Evening

11th Annual Celebrity Dinner

-

Calumet Club

-

Augusta, ME

Friday May 20th, 2011 @ Afternoon & Evening Performances

Spring Fling

-

Messalonskee Performing Arts Center

-

Oakland, ME

Saturday June 4th, 2011 @ TBA

All Classes Reunion

-

Erskine Academy

-

China, ME

Saturday June 11th, 2011 @ 1pm

Shrine Ladies

-

Bayley's Campground

-

Old Orchard Beach, ME

Saturday June 18th, 2011 @ 5:30pm

Talent Show

-

Gardiner Waterfront

-

Gardiner, ME

Saturday June 25th, 2011 @ Evening

National Association of Fire Chiefs

-

Springfield, MA

Friday July 22nd, 2011 @ 4:30pm

FHC Company picnic

-

Bowdoin Central School

-

Bowdoin, ME
Summer & Fall, 2011
Friday, July 22nd, 2011 @ 4:30pm

FHC Company picnic

-

Bowdoin Central School

-

Bowdoin, ME

Saturday, July 23 - 26, 2011

Victory Chimes Cruise

-

Off the Maine mid-coast

Monday, August 1st, 2011 @ 5:30pm

Maine Revenue Services Property Tax School

-

Youngs Lobster Pound

-

Belfast, ME

Thursday, August 25th, 2011 @ 1pm-4pm

Union Fair Grounds

-

Union, ME

Saturday, September 10th, 2011 @ 8pm

Maine State Firefighters Convention

-

Alfond Youth Center

-

Waterville, ME

Tuesday, Sept 20th, 2011 @ Noon

Combined Benefits United Retreat

-

Maple Hill Farms

-

Hallowell, ME

Sunday, Sept 25th, 2011 @ 9am - 10:30am

Maine Hospice Council Retreat

-

Sugarloaf, ME

Tuesday, Sept 27th, 2011 @ 10am - Noon

Maine Medical Group Managers Association

-

Maine Medical Building

-

Manchester, ME

Thursday, November 3rd, 2011 @ 5:30pm

Entrepreneurship Awards Dinner

-

Coastal House

-

Wells, ME
2012
Friday, March 2nd, 2012 in the Evening

Military Recognition Event

-

UMA

-

Augusta, ME

Monday, March 5th, 2012 @ 7pm

Wisdom Seniors

-

Oblate House

-

Augusta, ME

Friday, March 16th, 2012 @ 2pm

Granite Hills Estate

-

Augusta, ME

Saturday, March 24th, 2012 @ 6pm

Rural Community Action Ministry

-

Leeds Community Church

-

Leeds, ME

Saturday, March 31st, 2012 in the Evening

Fundraiser

-

Manchester Lions Club

-

Manchester, ME

Thursday, April 12th, 2012 @ 6pm

Verso Paper Employee Banquet

-

Jeff's Catering

-

Brewer, ME

Saturday, May 5th, 2012 @ 6pm

Fundraiser Celebrity Dinner

-

Sexual Assault Crisis & Support Center

-

Augusta, ME

Thursday, May 17th, 2012 in the Morning

Maine Medical Group Managers Association

-

The Samoset

-

Rockport, ME

Saturday, May 26th, 2012 @ 7pm

Comedy Night @ Vacationland Inn

-

Brewer, ME

Friday, July 13th, 2012 from Noon - 4pm

Potato Council

-

Presque Isle, ME

Monday, July 16th - July 18th, 2012 @ Maine Story Telling Cruise -

Victory Chimes

-

Rockland, ME

Friday, July 27th, 2012 @ 4pm

Maine's Dooryard Festival

-

Poland Springs Resort

-

Poland Springs, ME

Friday, August 10th, 2012 @ 7pm

Waldoboro Fire Department Fundraiser

-

Medomak Valley High School

-

Waldoboro, ME

Thursday, August 23rd, 2012 @ 1 - 4pm

Union Fair

-

Union, ME

Monday, August 27th, 2012 @ 7:30am

Windham Raymond Schools Staff Opening Day

-

Windham High School

-

Windham, ME

Tuesday, October 16th, 2012 @ Afternoon

CMP Corporate Safety Meeting

-

Augusta Civic Center

-

Augusta, ME

Thursday, November 1st, 2012 @ 5:30pm

Entrepreneurship Awards Dinner

-

Coastal House

-

Wells, ME

Thursday, December 13th, 2012 @ 5:30pm

Sappi Fine Paper 25 Year Club Banquet

-

Waterville Elks Club

-

Waterville, ME

Friday, December 14th, 2012 @ 6pm M&H Construction - -

Oquossoc, ME

Friday, December 21st, 2012 @ 10am

Mid Coast Maine Community Action

-

Wing Farm Parkway

-

Bath, ME
2013
Thursday, January 10th, 2013 @ 5pm Maine Motor Transport Association Annual Banquet -

Holiday Inn By-the-Bay

-

Portland, ME

Thursday, April 11th, 2013 @ 6pm

Verso Paper

-

Jeff's Catering

-

Brewer, ME

Saturday, May 4th, 2013 @ 5pm

Sexual Crisis & Support Center Celebrity Fundraiser

-

Calumet Club

-

Augusta, ME

Tuesday, May 14th, 2013 @ Noon

Maine State Retirees Day

-

Augusta Civic Center

-

Augusta, ME

Thursday, May 16th, 2013 @ Evening

Northeastern Loggers' Association

-

Jeff's Catering

-

Brewer, ME

Friday, June 21st, 2013 @ 5pm

Wing Family Reunion

-

Holiday Inn by the Bay

-

Portland, ME

Friday, June 21st, 2013 @ 9pm

Neurosurgeon Conference

-

Cotta Union Student Center, Colby College

-

Waterville, ME

Friday, June 28th, 2013 @ 6pm

Community Supper

-

Embden Community Center

-

Embden, ME

July 15 - July 18th, 2013 @ Multi-day

Victory Chimes Windjammer Cruise

-

Rockland, ME

Wednesday, July 24th, 2013 @ Evening

Delta Kappa Gamma

-

Holiday Inn by the Bay

-

Portland, ME

Thursday, August 1st, 2013 @ 7pm

Great Books Summer Institute Talent Show

-

Cotta Union Student Center, Colby College

-

Waterville, ME
2014
Saturday March 1st, 2014 @ 5:30pm

Habitat for Humanity Annual Meeting

-

Waterville Elks Club

-

Waterville, ME

TWO SHOWS! Friday April 11th, 2014 @ 2pm & 7pm

Sawyer Memorial

-

Sawyer Road

-

Green, ME

Saturday May 3rd, 2014 @ 5pm

Sexual Crisis & Support Center Celebrity Dinner

-

Calumet Club

-

Augusta, ME

Thursday May 15th, 2014 @ 6pm

Verso Paper

-

Jeff's Catering

-

Brewer, ME

Saturday June 14th, 2014 @ 4pm

Fairfield Days

-

Gazebo at Monument Park

-

Fairfield, ME

Saturday June 14th, 2014 @ 6:30pm

Trek Across Maine

-

Colby College Cotta Union Student Center

-

Waterville, ME

Saturday July 5th, 2014 @ 5pm

Patten Academy Alumni Association Banquet

-

Katahdin High School

-

Stacyville, ME

Saturday September 20th, 2014 @ 5pm

Beast Feast

-

More to Life Campground

-

Winthrop, ME

Friday October 17th, 2014 @ 8:30am

Maine Educational Secretaries Association

-

Hilton Garden Inn

-

Bangor, ME

Friday October 24th, 2014 @ 10am - 2:30pm

Bonny Eagle School District MSAD6

-

Bonnie Eagle Middle School

-

Buxton, ME
2015
Thursday, September 24th, 2015 @ 12 Noon

Monmouth Academy Sophomore Awareness

-

Camp Androscoggin

-

Wayne, ME

Wednesday, October 28th, 2015 @ 5:30pm

Chamber of Commerce

-

University of Maine Farmington Dining Hall

-

Farmington, ME

Thursday, November 5th, 2015 @ 5:30pm

Annual American Agriculture Women

-

Pineland Farms

-

New Gloucester, ME

Saturday, November 7th, 2015 @ 7pm

Maine Farm Bureau Annual Meeting

-

Waters Edge

-

Edgecomb, ME

Saturday December 5th, 2015 @ 5:30pm

Panolam Surface Systems Christmas Party

-

Carriage House

-

Lewiston, ME
2016
Friday, July 15th, 2016 @ 5pm

Orrington Old Home Week

-

Wiswell Farm 109 River Road

-

Orrington, ME

Wednesday, July 20th, 2016 @ 5pm

Haas Automation, Inc

-

Casco Bay Ferry

-

Portland, ME

Thursday, July 21st, 2016 @ Noon

Maine Farm Credit Bureau

-

Lucerne Inn

-

Lucerne, ME

Saturday, July 30th, 2016 @ 6pm

Paul's Marina

-

YMCA Brunswick Landing

-

Brunswick, ME

Thursday, August 4th, 2016
@ 10am (Private)
@ 6:30pm (Open to Public - free of charge)

Northern Maine General Hospital

-

Employee Appreciation

-

Eagle Lake, ME

Saturday, August 13th, 2016 @ 8pm

Vacationland Campground

-

Harrison, ME

Thursday, September 8th, 2016 @

Member Event

-

Augusta Country Club

-

Manchester, ME

Tuesday, September 13th, 2016 @ 3:30pm

Maine Municipal Association

-

T&B Celebration Center

-

Waterville, ME

Saturday, September 17th, 2016 @ Noon

150th year Anniversary of Togus

-

Togus Campus

-

Augusta, ME

Friday, October 21st, 2016 @ 5pm

Androscoggin Homecare & Hopsice Annual Auction

-

Poland Spring House

-

Poland Springs, ME

Tuesday, October 25th, 2016 @ 11am

ME ADE Fall Conference

-

Point Lookout

-

Northport, ME

Friday, November 11th, 2016 @ 1pm

Veteran's Bicentennial Luncheon

-

Weld Town Hall

-

Weld, ME
Thursday, April 27th, 2017 @ 6pm

Church Association Annual Meeting

-

Calumet Club

-

Augusta, Maine

Tuesday, May 23rd, 2017 @ 5pm

Volunteer Recognition Event

-

Harraseeket Inn

-

Freeport, Maine

Saturday, July 8th, 2017 @ 8pm

Comedy Night

-

The Birches Campground

-

East Monmouth, Maine

Saturday, August 12th, 2017 @ 6pm

Children's Cancer Fundraiser

-

Elks Club

-

Augusta, Maine

Sunday, October 8th, 2017 @ 1pm

150th celebration of Grange

-

Manchester Grange

-

Manchester, Maine

Tuesday, October 17th, 2017 @ 6pm

Masonic Celebration, Lodge #9

-

Saco, Maine

Sunday, October 22nd, 2017 @ 1pm

Feeding the Soul - The Hermitage

-

Elks Club

-

Augusta, Maine

Friday, January 26th, 2018 @ 6pm

Augusta Chamber of Commerce Kenny awards

-

Augusta Civic Center

-

Augusta, Maine

Saturday, February 3rd, 2018 @ 5pm

Frisbie Client Appreciation

-

Hilton Garden Inn Riverwatch

-

Auburn, Maine

Saturday, February 10th, 2018 @ 5pm

Frisbie Client Appreciation

-

Jeff's Catering

-

Brewer, Maine
Maine Humorists
For more Maine Humor visit www.mainehumor.com